Search Benefits
Member Benefits
Featured Benefits
Budget
provided by
Budget
Farm Bureau members save up to 30% on vehicle rentals with Budget Rent-A-Car.

Budget Car Rental is one of the world's best-known car rental brands with approximately 3,350 locations in more than 120 countries. 

Case IH
provided by
Case IH
Wyoming Farm Bureau members save $500 per unit on the purchase or lease of Case IH Maxxum® tractors; Farmall® C series utility, U series utility and 100A series tractors; self-propelled windrowers and large square balers. A $300 per unit incentive is available for Case IH Farmall® C series compact and Farmall A series utility tractors, Case IH Scout® utility vehicles and other hay tools, including round balers, small square balers, disc mower conditioners and sicklebar mower conditioners. Visit your dealer and make your best deal. Then present your discount certificate to subtract another $300 – $500 from the bottom line. Your certificate, along with valid ID, must be presented to the Case IH dealer in advance of delivery to receive the discount.
If you have questions or need help obtaining the certificate, please call (307) 721-7723 or visit your local FB office.

Caterpillar
provided by
Caterpillar
Wyoming Farm Bureau members can save up to $5,000 on the purchase or lease of eligible CAT® wheel loaders, small and medium dozers, backhoe loaders, compact track loaders, multi terrain loaders, skid steer loaders, telehandlers, mini hydraulic excavators and excavators. Members also receive an additional $250 credit on work tool attachments purchased with new CAT
machines. These discounts can be combined with any current retail discount, promotion, rebates or offers available through Caterpillar or its dealers, with the exception of the Cat NCBA membership incentive.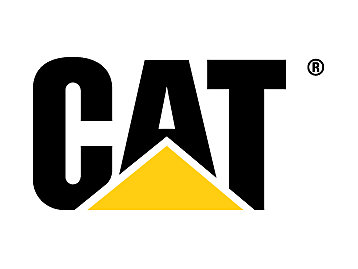 Choice Hotels
provided by
Choice Hotels
Save up to 20% off at participating Ascend®, Cambria Suites®, Clarion®, Comfort Inn®, Comfort Suites®, Econo Lodge®, MainStay Suites®, Quality Inn®, Rodeway Inn®, Sleep Inn®, and Suburban Extended Stay® hotels.  Go to www.choicehotels.com and enter your Wyoming Farm Bureau Federation program code under the Special Rate/Corp ID option to access this benefit today!

Grainger Industrial Supply
provided by
Grainger
DEEP DISCOUNTS AND FREE SHIPPING ON ALL GRAINGER ORDERS
Wyoming Farm Bureau members get deep discounts on all equipment and supplies and enjoy free standard ground shipping when they order catalog items online, over the phone or at their Grainger branch*.
Farm Bureau members receive even deeper discounts on the following categories:
*FREE standard shipping* on all orders shipped ground transportation. Other freight charges will be incurred for services such as expedited delivery, special handling by the carrier, sourcing orders and shipments outside the continental United States.

John Deere
provided by
John Deere
Wyoming Farm Bureau members are eligible for a complimentary John Deere Rewards upgrade (Platinum 2 status), which unlocks the best loyalty rewards including valuable equipment discounts.  
Register today and explore all that Rewards has to offer!
Check out the savings on the following equipment categories:
  Commercial Mowing -- $300 to $2,700 off
  Residential Mowing -- $100 to $200 off
  Utility Vehicles -- $200 to $350 off
  Tractors -- $200 to $300 off
  Golf & Sports Turf -- $500 to $3,700 off
  Commercial Worksite -- 17% off MSRP
Don't wait – visit JohnDeere.com/FarmBureau today to register!
Details and Restrictions
Must be a valid member of Farm Bureau for 30 days (effective 9/11/18).
A valid member email address is required for eligibility.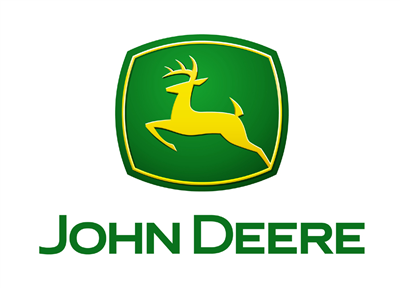 Mountain West Farm Bureau Mutual Insurance Company
provided by
Mountain West Farm Bureau Mutual Insurance Company
Policyholders with Mountain West Farm Bureau Insurance - our affiliate insurance carrier - may be eligible to receive a discount on their premiums as members of the Wyoming Farm Bureau Federation.  Contact a Mountain West agent today to speak with them about homeowner's, renter's, automotive or inland marine coverage, and ask about the benefits of becoming a Wyoming Farm Bureau Federation member.
Prescription Savings Coupon through United Networks of America
provided by
United Networks of America - Discount Prescription Drug Card
Prescription Savings Coupon through United Networks of America - a prescription drug coupon program that helps lower your family's prescription drug costs. Login to our member portal to view specifics on this program.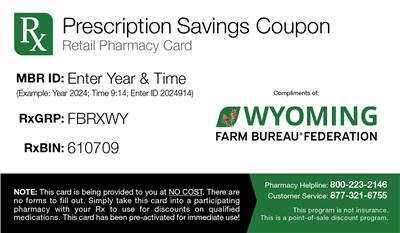 WyFB Scholarship Program
provided by
WyFB Scholarship Program
Wyoming Farm Bureau Federation awards $5,500 in scholarships each year. These awards include the WyFB Livingston Family – H.J. King Memorial Scholarship for $1,500; (5) WyFB Scholarships for $500 each for entering college freshman; and (3) WyFB Continuing Education Scholarships of $500 each for college sophomores, juniors, and seniors. Applicants 18 years or older as of March 1st (of the year for which they are applying) must hold their own active Wyoming Farm Bureau Federation membership.